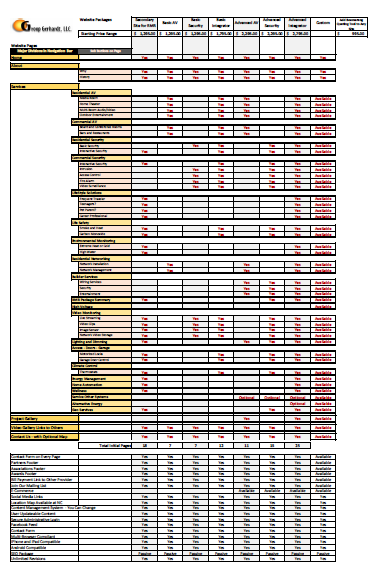 Pricing
Gone are the days of Portfolios and Galleries, "Partners" and Manufacturers as website fodder.  They have been replaced with vibrant images, videos, and explanations of how a system makes life convenient and exciting.  Searches for specific products simply restore a retail style pricing perspective.  Modern Connected Homes are all about what a system does, not the products used to get it done.

The classic recurring monthly revenue companies, utilities, cable companies, and phone companies collect hundreds of dollars every month from each subscriber and, none of us know who makes the cable boxes, or utility meters, or cell towers. Today, it is all about what can be done for your potential subscriber.  A woman who wants to receive an image when her child comes home from school is not going to search for a camera manufacturer.

Promoting what your systems can do will be more compelling.  Most people don't want to use the national cable, phone, security, and home improvement companies where there personal security, convenience, and privacy are involved. These "way to bigs" are not very good because they don't have to be.

Modern templates offered by world class designers and data drive web platforms, specifically Joomla and WordPress have removed the need (and cost) for custom coding. And yet, sites from our competitors are as expensive as ever.

Our sites are organized by the services you offer. Click Here or on the image to download your own version.