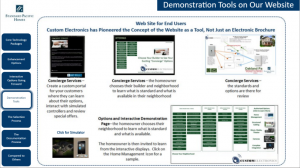 Click on the Image for an Example
For the last 14 years we have developed processes and procedures for production oriented builders. This approach is one way to simultaneously make money while building Recurring Monthly Revenue.
Over those years, we have developed programs and support materials for these specialized programs. These programs require an infrastructure that equips you to respond to the demands of their schedules. These programs create an artificial referral base within each community that needs to be treated differently.
There are several strategies available to capitalize on the resurgence in home building that appears to be well underway. Click on the image for a sample of an actual presentation made to a national home builder that secured hundreds of homes.